Advertising mesh banner is a printable substrate, commonly attached to mesh fencing as a fence wrap and on scaffolding for building wraps. Commonly used within the construction, event, real estate and advertising sectors. This product carries a printed message for brand exposure and site safety, while also offering site privacy plus dust and debris control.
What materials are used?
PVC Mesh Banner is a polyester base fabric, dip-coated with PVC. With good strength and image quality, it is the most common fence wrap for mesh fencing and makes up the volume of the printable mesh banner market.
100% Polyester based advertising mesh banner, also known as Poly Mesh, is popular due to the large printable surface area with excellent visual impact. The limited outdoor longevity makes this best for short term applications such as events.
100% HDPE Advertising Mesh, also known as Shadecloth, has moderate longevity, visual impact and has long been used as an external substrate for building wraps. This item has fallen in popularity over recent years due to limitations in print production.
Please refer to our advertising mesh banner comparison chart.
What are the different qualities of PVC based Advertising Mesh Banner?
There are 2 measurements to identify different grades: Thread count and weight.
Thread count is measured by the knitted polyester base fabric and how many thread lines per inch (2.5cm) in the warp (vertical) and weft (horizontal) direction.
Weight is measured in grams per square metre (gsm).
The 2 most common PVC based Advertising Mesh Banner constructions we see in printed advertising mesh is Open Knit Mesh (9×9 thread count) and Tight Knit Mesh (12×12 thread count). Open Knit Mesh typically has a GSM rating of 200gsm, while the Tight Knit Mesh has a typical GSM rating of 260gsm.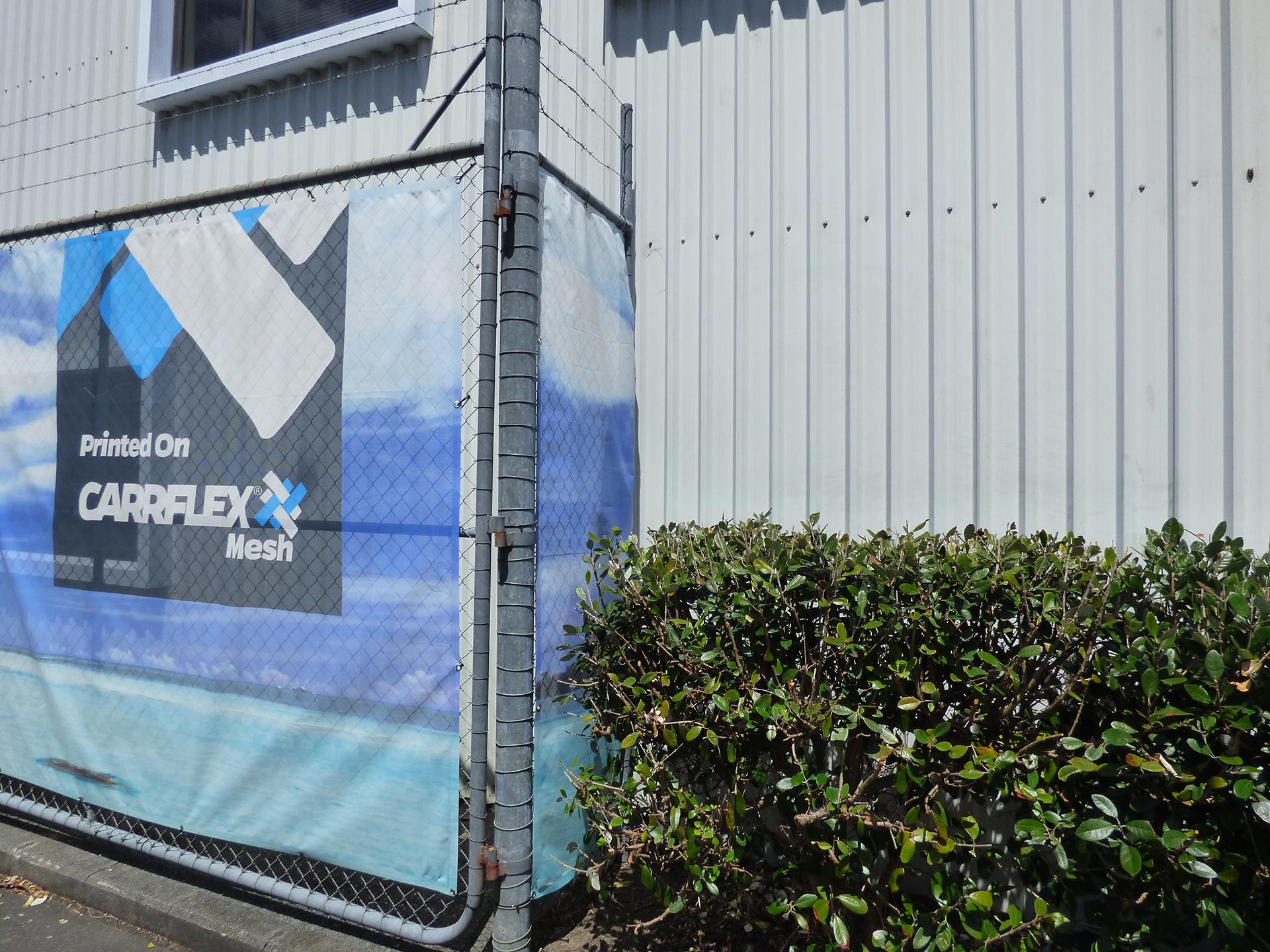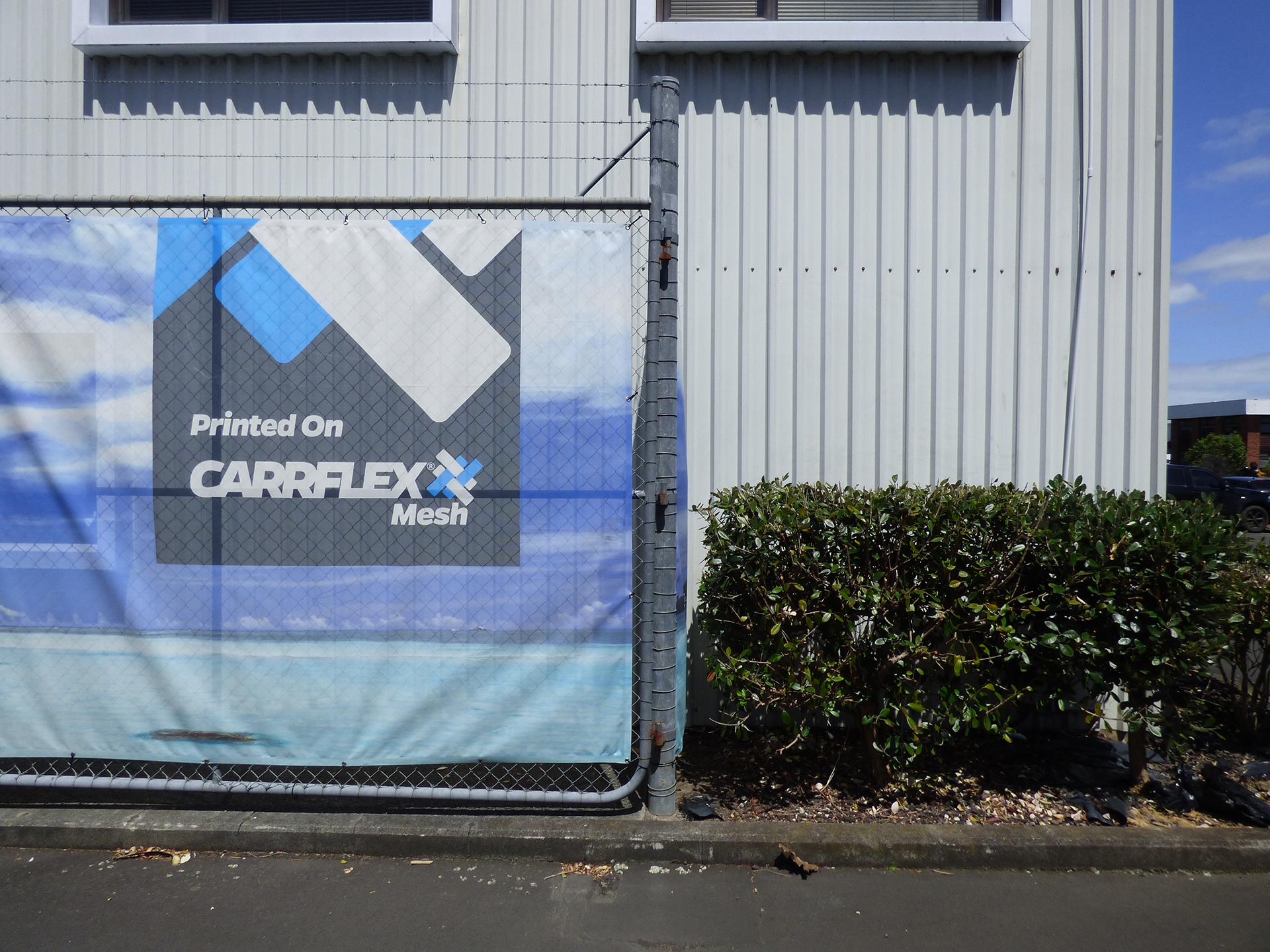 As a print fabricator which advertising mesh banner features should I consider?
Fire Retardancy
Use of a specific additive and formulation is a feature which inhibits the spread of flame. CARR Group regularly advises requirements for mesh fencing through to building wraps.
More: Fire Retardant PVC Mesh
Pre-Hemmed Edges
Carrflex® Pre-hemmed Advertising Mesh Banner has a 40mm welded hem top and bottom running the whole length of the roll, which provides production efficiency (cost and time). Unique to the CARR Group, this is commonly utilised on mesh fencing for fence wraps.
More: Pre-Hemmed Mesh
Removable Backing Liner
Carrflex® PVC Advertising Mesh Banner can be supplied with a backing liner which can be removed following the print process. This is utilised for printers that do not have a mesh kit or ink trap.
Air Permeability vs Visual Impact
For high wind areas, consider using an advertising mesh banner with more open holes to allow air to pass through.
Carrflex® PVC Advertising Mesh Banner is a core item for AMI Graphics, used for small to grand-scale prints. CARR offers a reliable product and a unique supply solution that meets our business needs.
Ashlee Langsten, Director – Operations
AMI Graphics, New Hampshire, North America
Questions or comments? Send us a message.