Photo Source: twitter/@tsdheo
Fire Retardant PVC Mesh
All Carrflex® PVC Mesh products are available in a premium fire retardant option. Manufactured to either European FR standard B1, or North America FR standard NFPA701, using a specific formulation of fire-resistant PVC Mesh, this product inhibits the spread of flame.
Designed for the digital print sector, Carrflex® FR PVC Mesh is ideal for use on scaffold mesh and construction and event temp fencing.
PVC Mesh Fire Rated to AS/NZ 1530
Carrflex® PVC FR Mesh products have been tested to the industry recognised Australia/New Zealand fire standard AS/NZ 1530 Part II and III. Test results show our products score highly for:
Flammability Index
Ignitability Index
Spread of Flame Index
Heat Evolved Index
Smoke Developed Index
Please contact us for more details about these tests.
AS/NZ 1530 – Fire Test on Building Materials, Components and Structures:
Part 2: Test for Flammability of Materials
Part 3: Simultaneous Determination of Ignitability, Flame Propagation, Heat Release and Smoke Release
Fire Resistant PVC Mesh in the Construction Sector
With the increased emphasis on Health and Safety issues in the Australian construction sector, fire resistance in building materials and construction components is an important consideration.
The dangers of fire in the construction industry have been highlighted in dramatic fashion as recently as May 2018 in Sydney's CBD. A fire broke out near a Macquarie Street cafe, and material surrounding the scaffolding at an adjacent worksite also caught alight.
A witness described a "wall of flames" shooting up the mesh covering which sent construction workers scrambling for safety. Luckily for those onsite, all but one person – who was treated for smoke inhalation – escaped the blaze unharmed and the fire was quickly contained by emergency service crews.
This is not the first time this year that a Sydney construction site has faced the same drama as fire took hold at a development in Circular Quay.
The impact of fire at a construction site can be significantly reduced with the use of fire retardant materials. Our flame retardant mesh inhibits the spread of flame and will self-extinguish when the flame source is removed. It does not support flame spread.
Apart from the potential for devastating injury – or even death – the commercial toll of fire on a construction project can be massive. And as they say, prevention is always better than cure.
With these two Sydney examples, where fires were fuelled by scaffolding mesh, the use of Carrflex® fire retardant PVC mesh could have made all the difference, if only to prevent the dramatic images from making the news!
Industry Regulators React
Following these recent, high-profile incidents, PVC Mesh, along with various other containment and construction netting, has been under close inspection with regards to their performance around fire retardancy.
SafeWork NSW recently detailed some information and consideration points for all parties supplying products for this type of application.
Here is an extract of their press release:
Fire Hazards & Containment Netting
This safety alert reminds people of the fire hazards associated with containment netting or equivalent used in the construction industry, and the measures that should be implemented to control the associated risks.
Action required by suppliers:
Suppliers of containment netting have specific duties under Work Health and Safety legislation, including:
a supplier must ensure, so far as is reasonably practicable, the containment netting is supplied without risks to the health and safety to persons who work with the netting, or persons whose health and safety may be affected by the use of the containment netting.
Action required by principal contractors:
The risks associated with fire hazards and containment netting must be managed, so far as is reasonably practicable, by ensuring:
the containment netting used on site is manufactured from material of low fire hazard properties, or includes measures incorporated in its manufacture to control the risks associated with fire. Note: containment netting made from polyurethane (PU) or polyethylene (PE) should include fire retardant substances.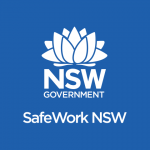 Carrflex® Fire Rated PVC Mesh
Carr Group has been tracking these developments closely. To keep our customer base informed, we would like to make you aware of our own fire rated mesh product: Carrflex Premium Mesh FR.
Carrflex® Premium Mesh FR is amongst a range of items we can offer which have been produced with FR additive and tested to the local standard.
In addition to fire resistant PVC Mesh, we offer a range of PVC banner vinyls and polyester textiles produced with FR and tested to the local standard AS/NZS 1530 Part II & III.
We can customise many of our Carrflex® print media products to suit your specific needs. Please contact us with any questions and enquiries regarding our fire-resistant textile range.
Download the June 2018 Press Release
FR Mesh
The acronym FR can refer to many variations of one idea: fire resistant, fire retardant, flame resistant or fire rated. No matter how you term it, the idea of suppressing the spread of flame is coming into sharp focus for the construction industry.
Printed PVC mesh is increasingly being used for marketing purposes around building sites and construction site scaffolding. And as we've read in the news recently, this material has come under scrutiny for its potential to fuel construction site fires.
The best available solution is to upgrade your regular printed PVC mesh to FR mesh from Carr Group. Carr Group PVC FR mesh is manufactured with properties that are proven to inhibit the spread of flame.
Contact Us for Further Information