Source: Australian Printer
The Green Initiative aims to facilitate the diversion of waste goods from landfill into a positive end-of-life solution.
Supplier to the wide-format industry aims for 100 per cent diversion of waste goods to landfill with its new recycling programme.
Carr Group has launched an ambitious recycling and recovery programme for the grand format segment of printing.
Established from a manufacturing background in coated and specialty fabrics, Carr Group is a supplier to industries across Australia, New Zealand and North America, with one of its core sectors being the grand format digital print industry.
As Carr Group business development and product manager Kai Hennig explained, "Across Australia, we warehouse goods in Brisbane, Sydney, Melbourne and Perth.
"By utilising our footprint and reach, it is from within the digital print sector that we will launch what we believe to be the rst environmental programme of its kind – our Green Initiative."
The company's Green Initiative will represent a suite of individual programmes, starting with its Fossil Fuel Offset endeavour. The Green Initiative is designed to facilitate the diversion of specially developed and approved waste goods from landfill into a positive end-of-life solution.
Hennig is unabashed in the end goal, noting, "Our target is clear – through collaboration with our valued stakeholders we want to achieve 100 per cent diversion of our approved industry goods away from landfill".
"We have structured the programme to have diverse solutions, capable of growing and evolving, and through continuous development to accommodate all industry goods. We hope by setting the platform, like minded organisations collaborate with us to achieve this."
Fossil fuel offset
Working with stakeholders, Carr Group plans to capture both in-house print production waste and end of life campaign goods. These waste goods can be converted into a Process Engineered Fuel (PEF), which is then supplied to facilities operating cement kilns and used as an alternative to coal.
Carr is also aiming to be as transparent as possible throughout the process, reporting back regularly to its customers to demonstrate how it is effectively enhancing its corporate social responsibility.
"Our stakeholders can leverage off this, for example, with printers able to clearly demonstrate to their clients, that they are environmentally responsible and offer various end-of- life solutions," Hennig said.
"We plan to capture as much commercially useable data as possible, giving valuable information back to our clients (and their end clients) that supports their corporate social responsibility programmes, for use as marketing material or within tender submissions.
"We plan to report back to each client on a quarterly basis on volume diverted away from landfill, fossil fuel offset credits, and other valuable industry specific data, among other things."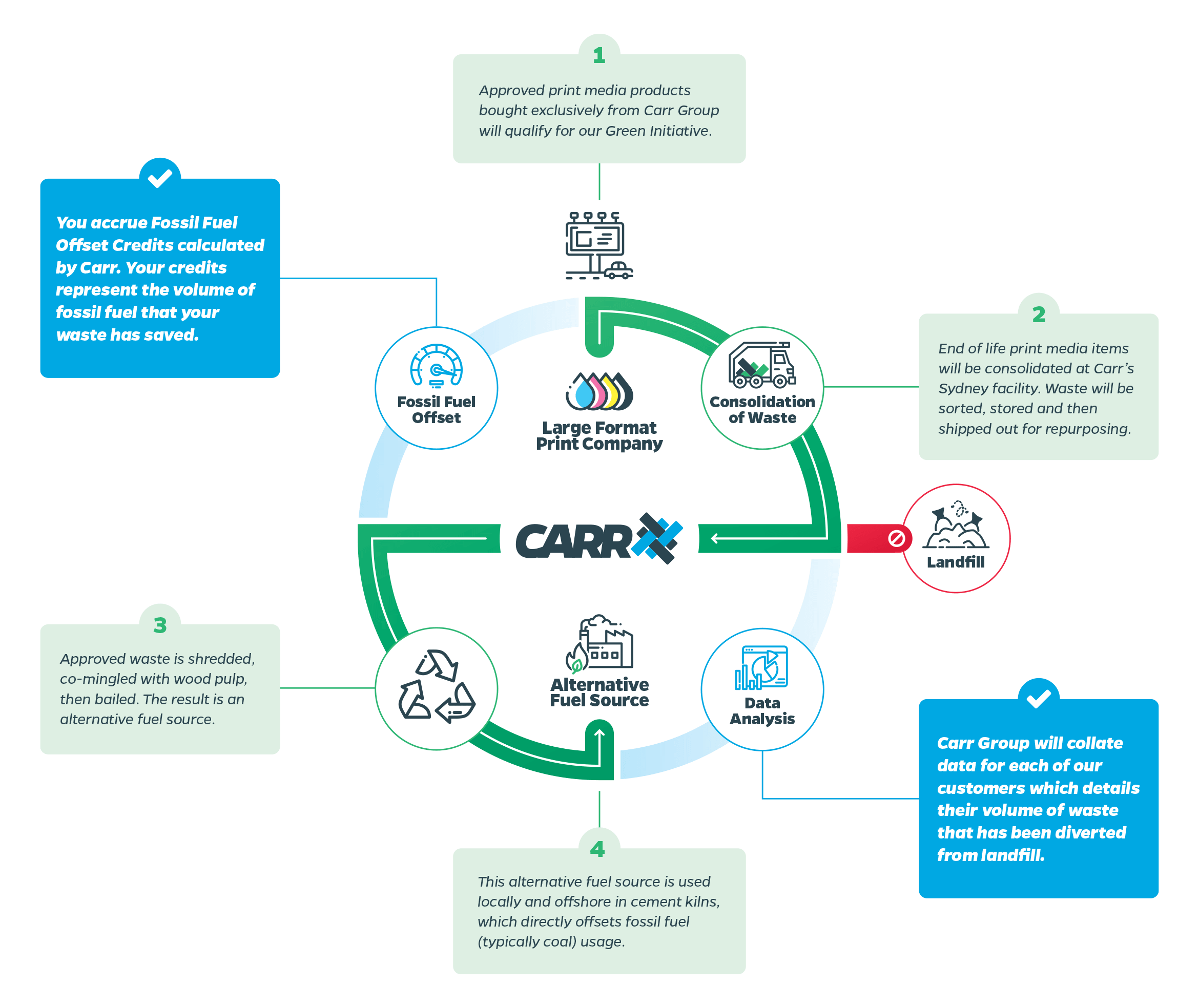 Picking print for the launch
Carr Group operates in multiple sectors, but chose to launch the program within print.
This was done intentionally, Hennig explained to Australian Printer, "As an industry we face some unique challenges. End of life campaigns have corporate branding which may not be appropriate for repurposing, plus the various ink types and imbedded colours (in the case of dye sublimation printing) present challenges for circular economy.
"With our foundation programme, we can offer a viable and positive end- of-life where goods ultimately end up being incinerated and diverted from landfills.
"Our research showed Europe to lead in environmental solutions, but even there it seems the most viable sprinter.com.au and scalable solution is incineration of waste goods, capturing the energy released for conversion into electricity. It seems commercially viable waste- to-energy solutions are still under development in Australia.
"Within Australia, there are some great innovations being developed. We are already in communication with various organisations for some of these innovations and it is our hope that through establishing our Green Initiative, we will be well- placed to participate in new environmental solutions when they ultimately become operational.
"Carr is a central point for the industry; we believe we are well-positioned to facilitate true environmental solutions. A common perception seems to be that just by transitioning to a product deemed to be more environmentally friendly, you are improving the environmental impact.
"We intend to not only offer solutions, we want to fully develop the knowledge and understanding of our stakeholders through education and promotion of the benefits."
Carr Group has also co-launched some product innovations, approved for use within the Green Initiative.
Carrflex Future Banner, available in two quality grades, is a 100 per cent PVC-free banner with matching Keder Edge. It provides a solution for use in the billboard and banner advertising sectors.
In addition to this, it has also launched Carrflex Silicone Welt Edge, an item that can be used in unison with its approved range of Polyester Textiles for SEG display systems.
For both products, there is no need to remove the edging for the goods to be included under the Green Initiative.
Learn More